A new chapter began in our life when our oldest daughter Joelle began college classes in the Fall of 2012. This past February we moved to Mount Vernon to be closer to the college.
Since our kids were born, Jackie's primary ministry has been in our home. The fruit of her prayer and effort is most evident in the lives of our daughters: Joelle (17) and Dana (15).
Their lives reflect the application of insights we gleaned in 2011from Jeff Schadt's extraordinary seminar: Crossing Thin Ice: Secrets of Influential Parenting.
(See my separate assessment of Jeff's insights on our ministry site.)
In addition to coordinating home life and changing schedules, Jackie also plans and manages the continuing renovation of the home (and yard) we bought in February.
Joelle skipped her last two years of high school (through "Running Start") and has been taking courses toward a nursing degree at Skagit Valley College. Last year she was taking a full course load at the college plus half-time at the Northwest Career and Technical Academy (NWCTA), where she trained to become a Certified Nursing Assistant (CNA).
She passed her CNA test last month. She has been heavily involved in the Campus Christian Fellowship (CCF) since she started taking college classes, and is now a worship leader and vice president of CCF. Joelle is too young for most nursing jobs, but landed her first part-time job in early November at Michaels, and is enjoying both the work and the reduction in her financial stress.
Dana is too young for the CNA program, but would like to attend next year. In the meantime she is taking two other NWCTA programs—Culinary Arts and Veterinary Assistant.
She is also involved with a local youth group, and earning and saving toward joining them on an outreach to Mexico in February. And she is preparing for a speech competition in which she plans to demonstrate a simple and enjoyable approach to talking with Muslims about Jesus. (We learned and used this approach during seven weeks in Madrid and Morocco this past summer.) Dana also landed her first part-time job in early November, at Dairy Queen.
Our family finances have been very tight for the past four months, and our daughter's jobs will help us tremendously by reducing their dependence on us.
(In recent years I have been researching and exploring solutions to the limitations of "donation-only" missionary funding, and realized the importance of imparting an entrepreneurial spirit to our kids, and learning together how collaboration and teamwork can produce value for everyone involved.)
Wahi joined our family unexpectedly for the current school year. He is a Muslim high school exchange student from Yemen, and attends a local high school where his courses included advanced Math and AP Physics. We celebrated his 16th birthday last month. He is a joy to be around, and a great help in landscaping our new back yard. God is also guiding us in learning how to talk together about Jesus.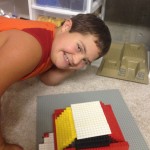 Wesley (12 with Down Syndrome) is a bit more challenging. Jackie has found home schooling him unexpectedly difficult, as he often resists the educational assignments she gives him. But his speech has improved significantly since we took him out of public school. And he can be very cooperative and helpful at times. We are trusting God to help us lead him to realize his full potential, and especially to know, trust and obey Jesus fully. Since his speech has improved so much, we decided to explore whether some public schooling would be helpful for him. We found a situation we are very happy about, and he is too. He has trouble getting out of bed in the morning, but eagerly runs to the bus when it arrives and comes home excited to read books with us, etc.
Robby is always thinking in bigger terms, both about how to advance Christ's global cause and how to impart skills and perspective to our kids.
Since its founding eight years ago our ministry has mostly involved researching and reporting on paradigm shifts which have resulted in fruitful breakthroughs in "difficult" fields. The resulting insights have been shared with friends who lead a wide variety of mission agencies, and led to significant roles with Mission Frontiers as guest editor, assistant editor and contributing editor.
Recently Robby has observed that collaborative learning and action appear to be the greatest catalyst for such paradigm shifts. He has begun exploring how current and developing technology could be applied to accelerate the pace at which missionaries decide to learn and act together.
This has led to considering "What would it take to develop a growing on-line community dedicated to learning and acting together to finish discipling all nations?" He is now researching appropriate on-line tools and looking for others interested in working together toward this end.
Robby has also been exploring how to facilitate more constructive interaction over issues which divide the mission community, and envisioning this as another aspect of this on-line community.
The result of our season of research and reporting is that we are constantly challenged with how to steward "too many" significant opportunities and insights.
Out of this we sense God's leading toward a transition
from Robby's focus of the last eight years—on research, reporting and consulting,
to working with others to build a growing, collaborative on-line community.
We count on your prayers, collaboration and donations to empower us in "the good works God prepared in advance for us to walk in" (Eph 2:10).
If you resonate with our vision and calling, please email or call me: 360 420-5634.
We also count it a privilege to pray for you.
Email us, let us know how you are doing, and tell us how you would like us to pray for you.
Thanks!